It's been interesting to watch Q2 play out in VC land – especially given the disconnect between Wall Street and Main Street throughout the Covid pandemic.  While initially a cataclysmic drop-off in funding was expected, the industry overall was not as affected as originally thought. Similar to the public markets, many investors continued to see a buying opportunity and had re-allocated their portfolios to support their likely winners. A key takeaway – early stage funding continues to face some challenges while late stage appears to have fared better. Many early stage B2C companies, however, are struggling.
It's difficult to be starting or building a consumer business now for the most part. There are exceptions (online commerce and other niche categories) but the pullback is quite prevalent in this chart.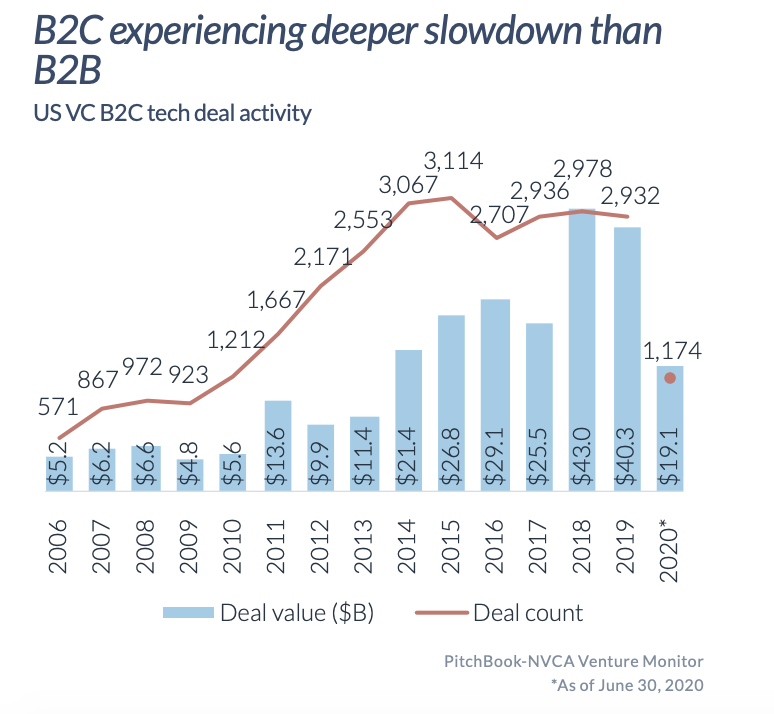 This shows me that while B2C deals are getting done, they are mostly happening at the later stage depressing deal count. Starting a B2C business is already an expensive endeavor given the high cost of marketing and potential upfront capital needed for inventory. For those entrepreneurs who are trudging ahead, it could be an interesting time to explore a quick B2B pivot and then re-enter the consumer space. $ZOOM first started as a B2B business and as a result of the pandemic is making strides going direct-to-consumer. A lot of the major innovations throughout history started B2B before finding consumer appeal.  Dixie cups was a breakout startup hit of the 1918 pandemic. After failing at going D2C given latent demand for a product that was made of paper, they pivoted to B2B and started selling their products to businesses who then sold the cups for a penny each to workers. The first subscription business!  This helped them get traction in the home as people got used to using the product at work. Subsequently, their growth in B2C then took off.  In the highly competitive ride-hailing space, London/Israel based Gett decided to exit the consumer sector and instead focus purely on B2B corporate customers that were currently not a core focus of Uber, Lyft, etc. They then used third party partnerships to help grow by signing deals with providers like Lyft while managing the corporate relationships and backend reporting to their customers' procurement teams.    
Always be thinking if there is a B2B angle (or even a B2B2C approach) that can keep the lights on until this blows over . This doesn't mean abandoning your B2C ambitions, but maybe you'll find an interesting tailwind to help you re-enter stronger.